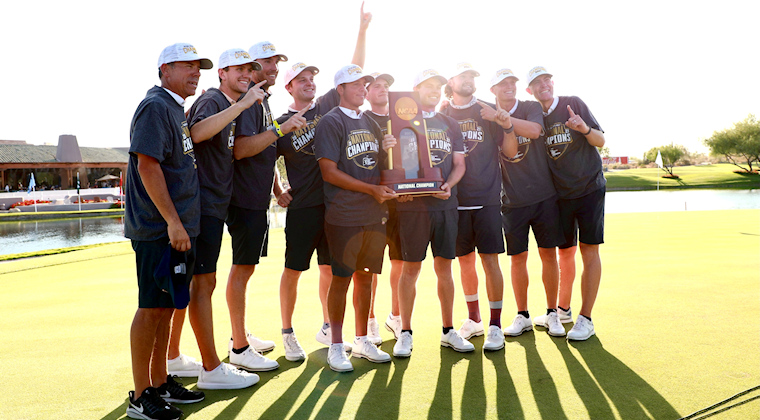 For the second time in school history, the Pepperdine Waves swelled to the top of college golf, with Wednesday's victory over Oklahoma at the 2021 NCAA Division I Men's Golf Championship.
Oklahoma put up the first points in the first match when Jonathan Brightwell edged out Pepperdine's Dylan Menante, 1-up. Shortly after, the second match broke for the Waves, thanks to Joe Highsmith's 4-and-3 win over Garett Reband.
Pepperdine then opened a 2-to-1 lead when William Mouw earned the team's second point of the match after outplaying Oklahoma's Quade Cummins.
The Sooners' Logan McAllister leveled the match 2-2 in his win versus Pepperdine's Joey Vrzich. Along the way McAllister made a hole in one on the 8th hole. Astonishingly, it was his second of the tournament. He also aced No. 5 two days earlier.
Pepperdine senior Clay Feagler tucked away the championship with a two-putt par on the 18th hole.
"It was kind of surreal to come down to the 18th hole and basically have the last point just kind of on my shoulders," Feagler said. "It was nerve wracking but it was exciting. I didn't think I was going to be the final point here. It was kind of crazy."