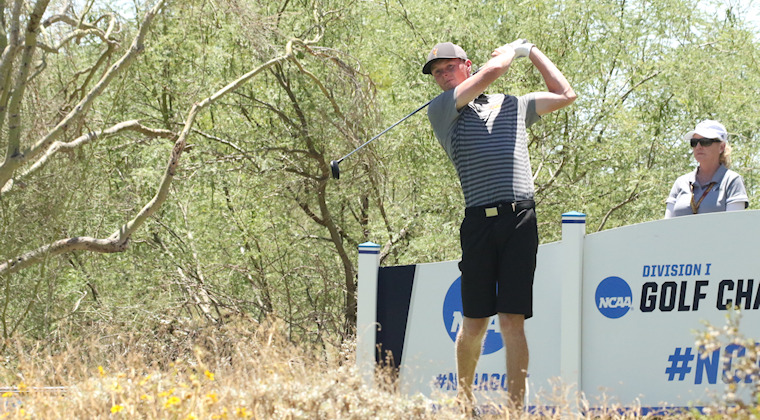 SUN DEVIL GOES LOW
ASU got a big boost from sophomore Ryggs Johnston in the second round after he put up a 7-under 63, the lowest round of the tournament so far. Two more strokes, and he would have tied the par-70 course record. Instead he finished tied for second place at 5-under par, three strokes off the mark set by Oklahoma State's Bo Jin.
Johnston started the day on No. 10, birdied the first three holes, gave one back at 14, and birdied 15-17 to make the turn at 5-under 30. He then made another push on the way in, going three-under par for four holes, 2-5.
"Throughout the round I didn't hit anything super close, but I made a ton of putts and I kept hitting it on the lines I was trying to hit it at, 10 feet and just kept making them," Johnston said. "I was in my own little world today. I felt like I was in the zone, didn't really think about what anyone else was doing. Just tried to focus on myself."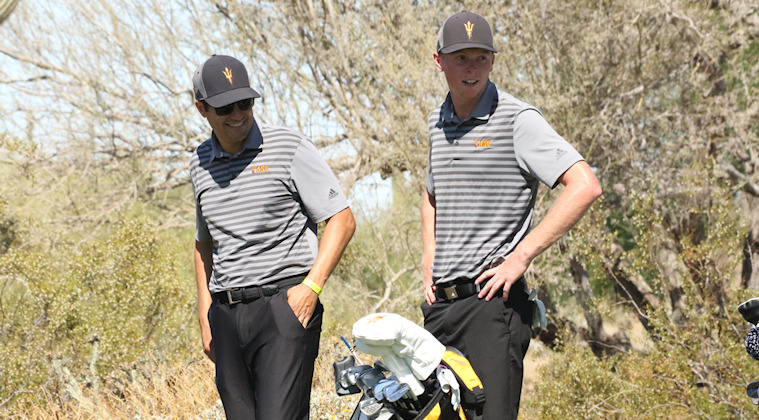 Sun Devil Ryggs Johnston (r) and Associate Head Coach Armen Kirakossian (l)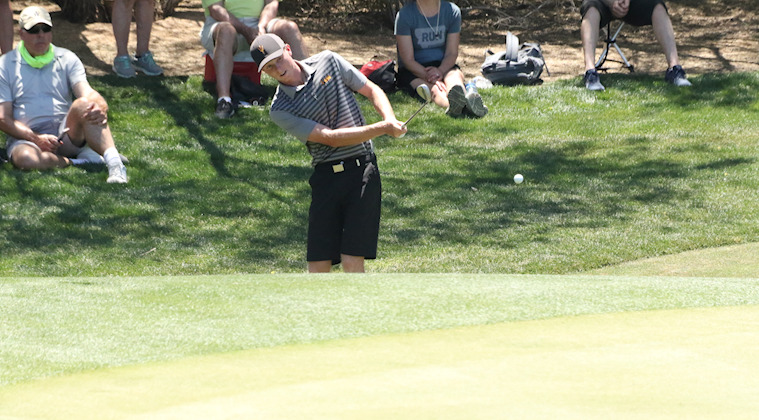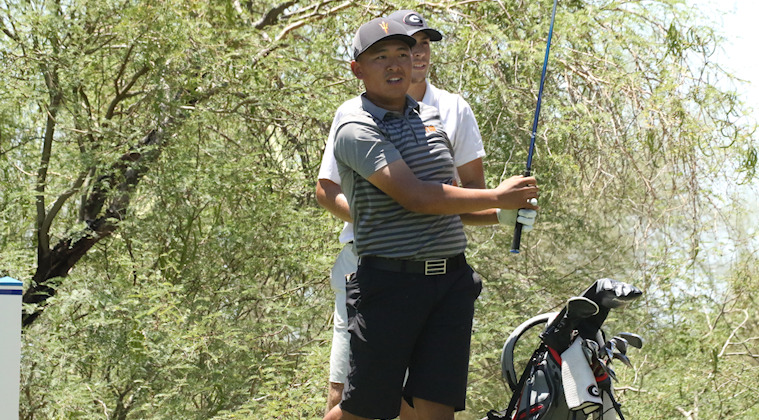 Johnston's talent came into focus for coach Matt Thurmond a long time ago, and today's round, which catapulted Johnston 53 spots up the leaderboard, only proved him right.
"I saw this phenom, 13, 14-year old had won a USGA qualifier up in Montana," said Thurmond. "That was the first I had heard of him. Started seeing here and there, various different national events, but he didn't play a ton so he was still relatively unknown."
Not anymore!
Yesterday's Sun Devil pacesetter, Mason Anderson, posted +4, 74 today. No. 1 Devil, David Puig came at 1-over-par 71 and Cameron Sisk shot 73.
In solo third place, the Sun Devils tee off this morning beginning at 6:10 am paired with Oklahoma and Oklahoma State.