SMU's Michelle Zhang and LSU's Ingrid Lindblad made big moves up the leaderboard during Sunday's third round. With a 67, Zhang climbed 32 spots to T6, and Lindblad shot 68 to jump 21 spots for a share of third place, setting the mood for an enjoyable team lunch.
"Ingrid's birdie on the last to make it an even par round was good," said LSU Head Coach Garrett Runion. It "made lunch taste a little bit better."
At -10, USC freshman Catherine Park is the third-round leader, firing 71 to follow up an 8-under 64 second round, which matched the NCAA Championship record for best round in relation to par since 2010.
In second place at -8, San Jose State's Lucia Lopez-Ortega bounced back from a 2-over par front nine to post 3-under par on the back nine.
"The pin positions have been incredibly tough, so you have to know where to be on the greens to have a good opportunity and the greens are a little firmer," said Lopez-Ortega.
Defending champion, Rose Zhang shot 1-under 71 in the third round to sit four strokes off the pace (-6) headed into the final round.
"I think the entire field felt how difficult the greens were today out there on the golf course," said Zhang. "It was a little firmer for everyone, and the rough was a little thicker. For me personally, I just couldn't convert as many putts, and I think a little putting session will get me prepared for the next couple of days."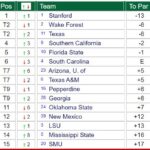 Sunday's third-round standings determine the top-15 teams and top-nine individuals (not already on an advancing team) who move  on to the final 18 holes of stroke-play. Then, Monday's final round not only crowns the individual champion, but it determines the top-eight teams who move on to match-play.