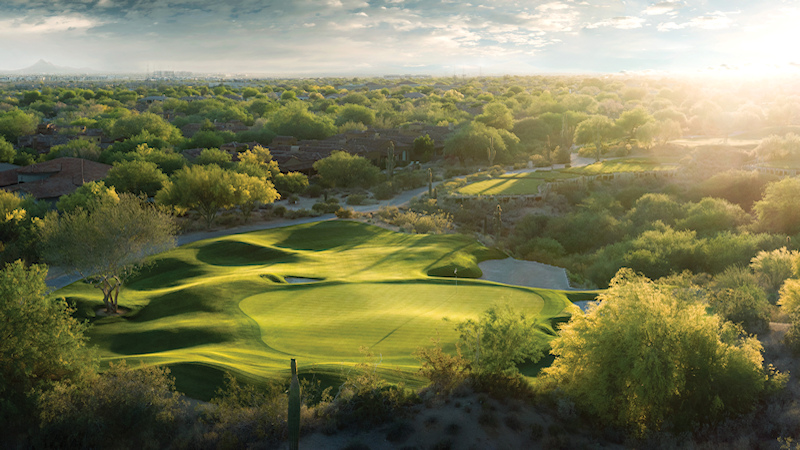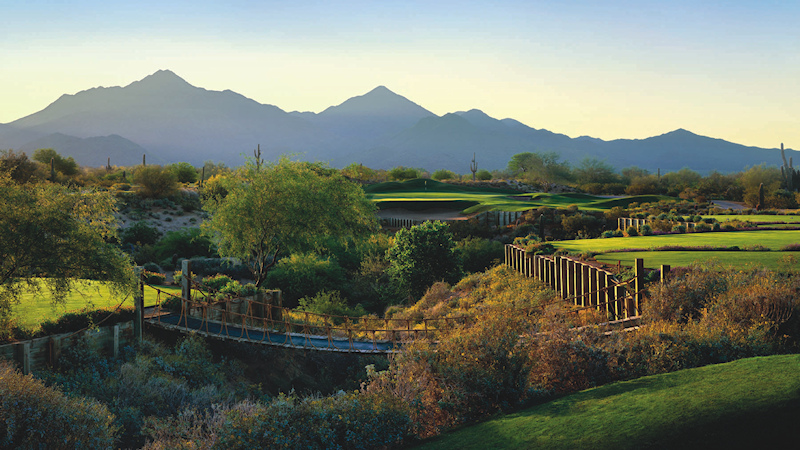 Although the McDowell Mountains frame many of the holes at Grayhawk Golf Club, Talon's 11th hole stands out as one of the most scenic of all 36. The sun first peeks over these saw-toothed Scottsdale icons in the early morning, casting opaque shadows and dreamy shafts of light across the folds and rumples of the green complex. At twilight the area fills with a soft light that illuminates the surroundings with rich purple-pink hues.
"Number 11 on Talon is one of those holes that gets your attention right away as something unique." said Travis McCutchan, head golf professional at Grayhawk Golf Club. "The teeing area hangs on the edge of a steep drop off, with the back Talon tees sitting across the bridge on their own little island. The carry over to the arroyo; the green sitting up on a shelf; the backdrop against the mountains; it's just spectacular."
Beauty aside, the par 3 plays 175 yards from the back tees to a large green with two distinct levels: low in the front, high in the back. The tee shot, all carry over a box canyon, must avoid a large bunker guarding the front with a couple more on each side of the green. Left is no good at all, while long-right misses have a fair chance of at least finding the grass.
Both our Talon and Raptor Courses offer spectacular golf, incredible vistas and first-class hospitality. Please click the button below to book a tee time.