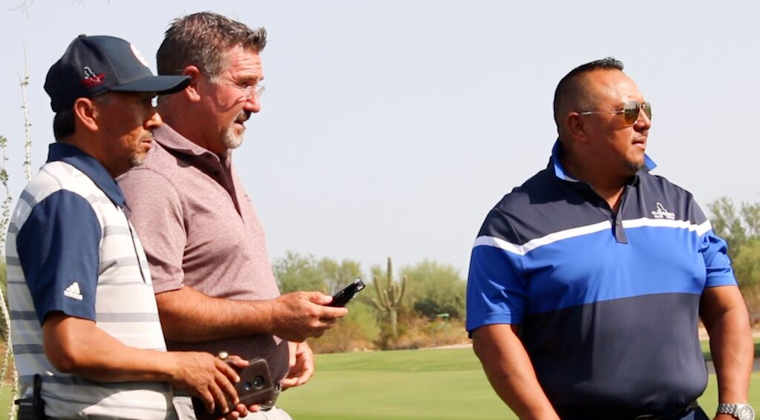 Yes, there is such a day, and of the many frivolous proclamations out there, it's one that all Arizona golfers can appreciate. If the local pioneers of agronomy hadn't figured out a way to grow grass in the desert, a typical "desert course" would look more like the Flintstone-style track nestled along Interstate 60 in Apache Junction, instead of the rich, green conditions we enjoy today. The least we can do is set aside a day – September 23 – to honor them. Thank you Sergio Padilla, Ernie Pock and Victor Ramirez for all you do for Grayhawk Golf Club.
Speaking of pioneers:  Pock's Arizona golf pedigree runs as deep as the roots of a mesquite tree. His great grandfather J.D. Woodward built the second nine holes at Arizona Country Club in 1946. Then he ventured out to the middle of nowhere to build Carefree's Desert Forest Golf Club in 1962, and was inducted into the Arizona Golf Hall of Fame in 2000.
Woodward's grandson and Ernie's father, Mike Pock, took it to another level by building Fountain of the Sun ('72), Troon CC ('85), Troon North Monument ('89), Raptor and Talon ('94,'95), Whisper Rock ('01,'05), as well as joining his grandfather in the Arizona Golf Hall of Fame in 2008.
Looks like Ernie is headed in the same direction, too. With plenty of gas still left in the tank, he already has 34 years under his belt in the golf course/turf management business. He also polished up golf courses before professional tournaments such as the Frys.com Open and Williams World Challenge nine times, so far. The upcoming NCAA Golf Championships will give him another opportunity to showcase his work.
"I have big shoes to fill, no doubt," said Pock of the legacy left by his great grandfather and father. "It certainly helps when you're working with two of the best guys in the business in Gregg Tryhus and Del Cochran [Grayhawk Golf Club founders]."
As the director of agronomy, Pock works with two dedicated golf course superintendents; Ramirez handles Talon and Padilla is on Raptor. The former is a Grayhawk hatchling who started back in 1996 near the club's inception under the tutelage of Mike Pock, before Ernie took over. He's been there ever since, climbing his way up the ladder, mastering each step no matter how big or small.
"Victor's easy-going personality makes him super easy for staff to work with," said Ernie Pock.  "He really built a firm foundation through hard work and knowing how to coach-up guys under him. He's respected as one of Grayhawk's leaders. Victor knows what to do and how to do it. He might not have formal schooling, but I would put him up there with any superintendent in the state when it comes to managing turf."
Padilla moved around a bit more than his counterpart, starting out at Mesa Country Club fresh out of high school. After burning the candle at both ends in college as a student athlete on a soccer scholarship, he decided to go pro in the golf business. Years later in the mid-'90s, Mike Pock and Jay Pock, Ernie's brother who worked at Grayhawk before moving on his first superintendent job at Chaparral Pines, hired Padilla to help with final construction of Raptor.
"Within six months, Jay Pock moved on and said, 'You're in charge,'" Padilla recalled. "That scared me to death. Mike Pock made it easy for me to come in and do what I needed to do."
After five years, Padilla leveraged experience gained at Grayhawk to land various positions with golf management companies. One project of note was preparing the Legacy Golf Resort for the 2000 LPGA Standard Register PING. He also filled various roles at clubs such as Frisco Grande, Silverado, Scottsdale CC, Red Mountain CC, Trilogy at Power Ranch and Dove Valley, among others. After years went by, Padilla found himself out of a job.
"I called Ernie Pock, and said, 'hey, I need to pay my bills,'" he said. "We talked about some construction on Raptor, the NCAAs, and 20 years later – I'm back where I started."
Back just in time for the annual overseed, when the team plants and grows, what amounts to, completely new golf courses.
"We just started with overseeding a couple days ago. That's the conversion from our warm-season grass to our winter grass, which is perennial ryegrass," said Pock. "We'll go through the process of scalping or removing the leaf tissue of the summer bermudagrass, so that we get good soil-to-seed contact when we throw down the ryegrass seed. It takes about, if weather permits, 4-5 days before seed germination, and them about 4-5 days after that, we'll start mowing. We can turn these golf courses over pretty quickly from green golf courses, to brown, and back to green again."
Albeit a daunting task, overseeding might just be the single-most important tool to attract play during the lucrative winter months, and over three generations, the Pocks have seen their fair share. Good thing they have help from guys like Padilla and Ramirez – as well as the whole Grayhawk agronomy team. On behalf of all the hackers out there:  Thank you for everything you do!