The mesquite bean doesn't fall far from the tree. Ernie Pock Grayhawk Golf Club's Director of Agronomy earned an award originally started by his grandfather:  Jay Woodward Superintendent of the Year Award. Presented to Pock in January 2023 by Grayhawk's Captain of the Club, Del Cochran, the third-generation golf course superintendent hails from a long line of Arizona turf professionals, including father, Mike R. Pock, and great grandfather, Jay D. Woodward, for whom the award is named. In the early 1950s, Woodward and Art Snyder co-founded Arizona's Cactus and Pine Golf Course Superintendents Association.
Pock followed his father's footsteps at some of Arizona's premier golf properties. Even as a young boy, Pock enjoyed working with his dad on the golf course and Pinnacle Peak Country Club provided his first memories of turf in the desert. It wasn't until the age of 16, working at Troon Country Club, that he started understanding the unique and challenging growing environment we have in the Southwest.
After Ernie's short college career in baseball, his father told him that if he was going to continue in the turf industry, he was going to need a piece of paper proving he had the credentials before he would help him get his first superintendent job. With that encouragement, Ernie attended Rutgers University's turfgrass program (1992-1993), graduating at the class president at the top of his class. Soon after returning to Arizona, he earned his first superintendent position at age of 23.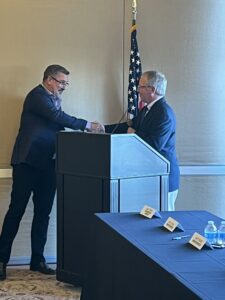 Professional History
Briarwood Country Club, Sun City West – Superintendent 1993-1997
Terravita Golf and Country Club, Scottsdale – Superintendent 1997-2000
Grayhawk Golf Club, Scottsdale – Director of Agronomy 2000-present

Televised Tournament Prep History

Tommy Bahama Challenge 2004-2005 (CBS)
com Open 2007-2009 (ESPN)
PGA Jr League Championship 2016-2022 (ESPN)
NCAA DI Men's and Women's Golf Championship 2021-2023 (NBC Golf)

State Tournament Prep History

WM Phoenix Open Pro-Am, 2000-2012
Thunderbird International Junior, 2000-2019
Desert Marlin/Twin Fin Pro-Scratch, 2000-2022
Ernie gives gratitude and credit to his wonderful family:  wife, Katie, and his two children, Cailey and Mason, who have always supported him on his journey to excellence.
"A very smart person once told me that the position of the superintendent is one, if not the most, important decision makers in the golf operations," Pock said. "And never forget that if it is not for the grass you grow, there is no golf business. Oh yeah, and a CEO never wears a ball cap to the office!"
Ernie continues to work hard and live his dream. He cherishes the memories and foundations given to him by his family and those he loves are always by his side. He would not have it any
About The "Jay Woodward" Superintendent of the Year
For their Involvement, Support, Allegiance, Commitment, Diplomacy & Professionalism, The Cactus and Pine GCSAA annually awards the Jay D. Woodward Superintendent of the Year Award to the Cactus and Pine golf course superintendent member who has gone above and beyond his/her normal duties and responsibilities as a golf course superintendent and shown exemplary service to the Arizona golf industry. Some of the selection criteria may include maximizing budget limitations, dedicated service to the Cactus and Pine GCSAA, educating and advancing the careers of colleagues and assistants, working with governmental agencies, preparing for large regional and national golf tournaments under unusual circumstances, dealing with emergencies, coordinating and managing a major course renovation project or dealing with natural disasters out of their control.
Jay D. Woodward was a founding member of the Cactus and Pine GCSAA and begin his career in golf in 1938 at Phoenix Country Club. He went on the rebuild Arizona Country in the mid-50s and in the 1961 was the golf course superintendent overseeing the construction of the iconic Desert Forest Golf Club in Carefree, Ariz., where he ended his career in 1978. Woodward was well-known for mentoring young golf course employees and ultimately trained a large number who went on to become golf course superintendents all over the desert Southwest. Ten members of Woodward's family followed in his footsteps to become golf course superintendents in the state of Arizona. As one of the first golf course superintendents in the state, Woodward was very innovative and a true pioneer in Arizona golf.