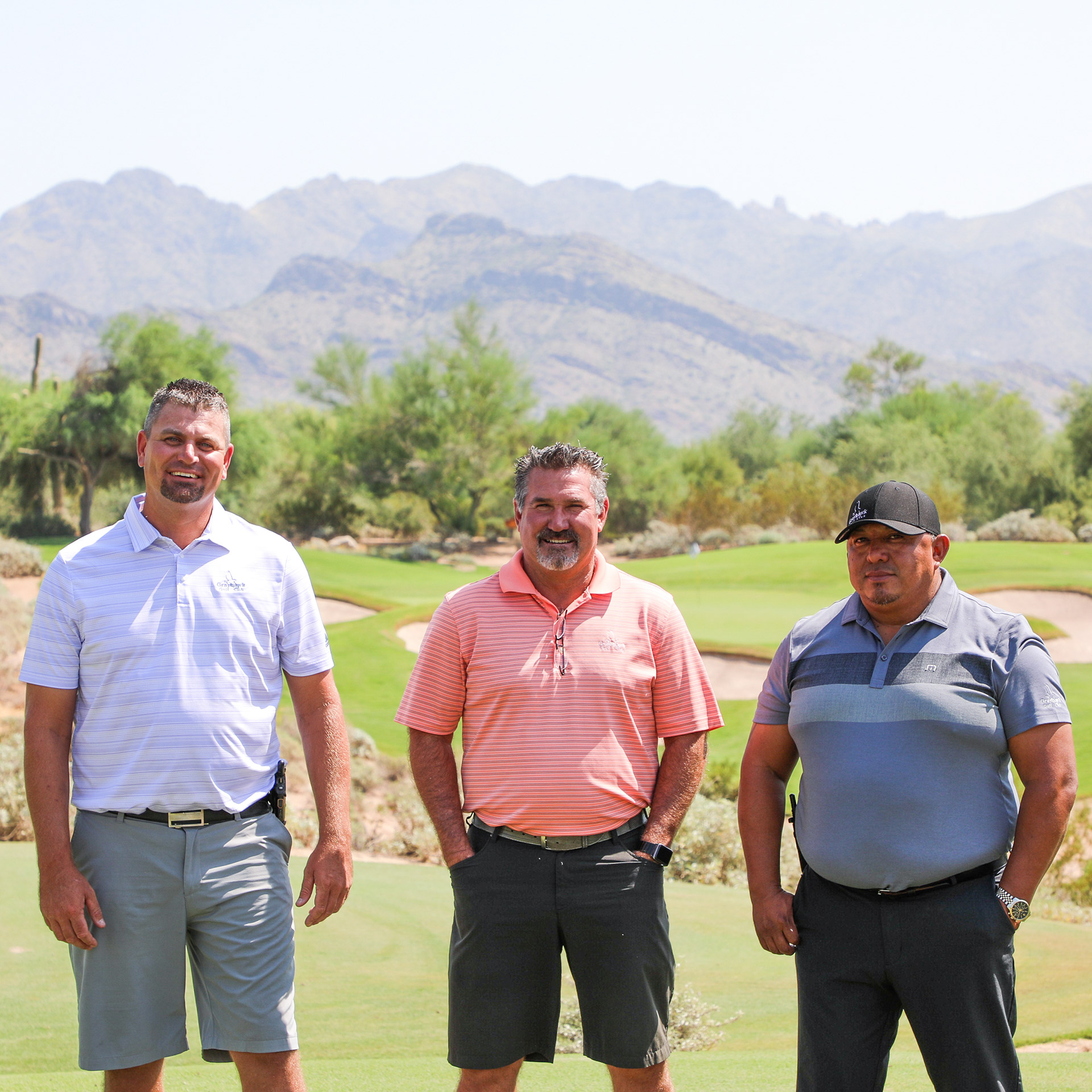 (left to right) Ryan Voyels (Raptor), Ernie Pock, Victor Ramirez (Talon)
In its second year, "Thank a Golf Course Superintendent Day" gives us another opportunity to thank Grayhawk's Director of Agronomy Ernie Pock and his superintendents Ryan Voyels and Victor Ramirez.
"Ryan started with us about 30 days before the NCAAs," which teed off May 2020 with two more years on the way. "He reminds me a lot of some of the best assistants I've had the pleasure of working with – good work ethic."
While the new guy handles Raptor, Ramirez has been the superintendent "in charge of Talon for 7 or 8 years," said Pock. "He's my old pro; been here 25 years; started at the bottom raking bunkers; worked his way through greens operator, fairway operator, cup cutter, irrigation…"
It's a bottom-up business, with deep roots within the Pock family. His great grandfather J.D. Woodward built the second nine at Arizona CC in 1946. Then he build Desert Forest Golf Club in 1962 and was inducted into the Arizona Golf Hall of Fame in 2000.
Woodward's grandson Mike Pock, Ernie's father, took it to another level by building Fountain of the Sun ('72), Troon CC ('85), Troon North Monument ('89), Raptor and Talon ('94,'95), Whisper Rock ('01,'05), as well as joining his grandfather in the Arizona Golf Hall of Fame in 2008.
"First thing about the business I can remember," Ernie recalled. "I was six, and my dad was growing-in Pinnacle Peak Country Club. I remember him showing me the baby seedlings just as they popped through the natural desert floor."
Ernie was 16 during the Troon CC project, and 19 for Troon North, which was his "first true building experience." As the years went on, building turned into maintaining and preparing golf courses for regular play and top competition.
"We're very blessed to do all the televised golf tournaments," said Pock. "Along the way I've gotten to work with good, young up-and-coming guys who have gone on to be great superintendents."
Noteworthy tournament currently on Pock's radar: the NCAA DI Men's and Women's Golf Championships, contested late-May through early-June, 2021-2023.
"NCAA was the hardest event I've ever had to work, primarily just because it's two weeks straight," as the women compete for a week, followed by the men.
They begin preparations well in advance, conditioning the turf to be firm and fast without losing the distinctive color:  "If the grass had no color, it would play the same, just wouldn't look as good on TV," he said.
During competition, Pock and crew fanned out over the golf course after play each evening to hand water hot spots in danger of turning.
"The challenge is to give at-risk areas just enough water to get them through the next day."
Although irrigation issues are usually the culprit, Pock went on to admit one of his biggest challenges "in today's market is staffing and labor."
"Big events like the WM Phoenix Open probably have about 60-80 guys working the tournament," said Pock. "The majors are on another level, with more than 100. We had 38 for the NCAAs. By the end of the two-week period, our tanks were running low."
No doubt Pock benefits from many of the incredible technological advancements to set the stage for college golf's best.
"I remember when my dad was the 'overnight waterman' at Desert Forest," Pock recalled. "He'd water three holes at a time. By the time he'd get to the third hole, he'd go back and shut the water off on the first hole. They'd get about three holes done in a night in the deserts."
Today, Ernie analyses atmospheric data gathered by an on-site weather station to calculate scientific stuff like "evapotranspiration rates" to guide watering practices. He's also able to instantly spot-test soil condition anywhere with a hand-held, tire-pump-looking probe.
"The advancements in irrigation and equipment alone are incredible," Pock added. "We can now mow down to a tenth of an inch versus a quarter inch back in the day. You're even going to see autonomous mowers on the fairways in the next five years."
He went on to list several other developments, including sun screen for grass to block some of Arizona's surplus UV radiation.
"They know that by applying it on the turf, it responds better – higher photosynthesis and higher root development."
But no matter how sophisticated agronomy gets, Pock is quick to point out that Mother Nature runs the show:  "Perfect example, this summer with the amount of rainfall we got, it was amazing how much easier it was to grow grass, and I didn't have anything to do with it."
Despite the extremes, where "if you're not paying attention, within two days you're gonna lose turf," Pock prefers the predictability of Arizona's weather. He also likes the lifestyle.
"Hours are good," he said. "Yes, I do get up very early in the morning, but my day is done normally by 2-2:30. When I was raising my kids, it was great. I'd normally pick them up from school, play ball, coach; we'd grab the boat and go to the lake in the middle of the week. Those were definitely some positives of being in the business."
Although the official "Thank a Golf Course Superintendent Day" is only two years old, appreciation for superintendents reaches back 600 years to the origins of the game, when the mowers were sheep. If you get a chance to say thank you in person next time you're at Grayhawk, Ernie would certainly appreciate it. If not, he'd be just as impressed if you "kept the carts where they're meant to be, and don't overfill your divots with sand." Fair enough!
Thank you to Ernie, Ryan, Victor and the entire Grayhawk crew!
Check Out Video From Last Year's "Thank a Golf Course Superintendent Day."