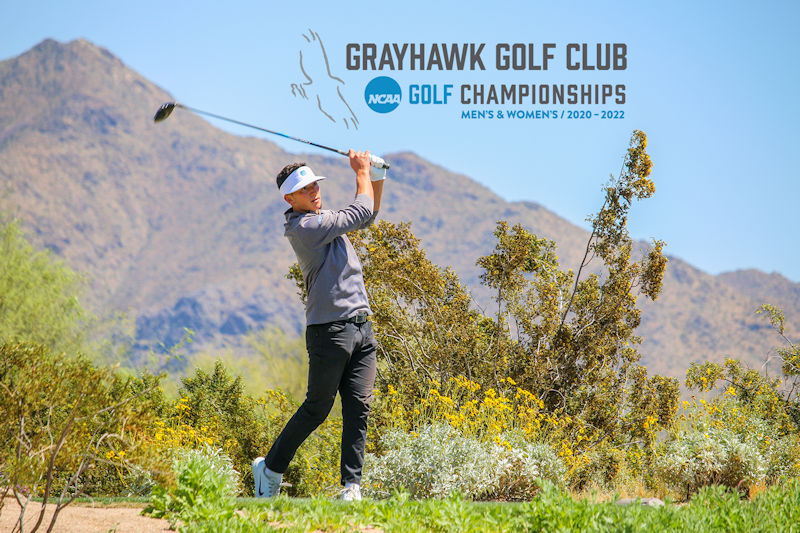 T-minus one year and counting until the 2020 tournament
Grayhawk Golf Club is set to host the NCAA Men's and Women's Division I Golf Championships for three consecutive years beginning in May 2020. College golf teams are already taking a sneak peek. Baylor, BYU, UCLA and North Carolina recently teed it up on Raptor while in town to compete in the 47th ASU Thunderbird Invitational held April 12-13 at Papago Golf Course. On an extremely windy day, we had a chance to tag along to capture some footage of their practice rounds.
Changes in the College Golf Scene
Not only are Grayhawk and ASU hosting the championships, ASU Golf moved from its longtime home at ASU Karsten Golf Course to Papago Golf Course where they are settling into their new home at The Thunderbirds Golf Complex. Surrounded by spectacular practice facilities designed by Grayhawk pal and Sun Devil Phil Mickelson, the landscape rumples, pitches and rolls to simulate just about every situation and lie imaginable.
2019 ASU Thunderbird Invitational
The move is already paying off. ASU Men's Golf posted their first team win at Papago at the 2019 ASU Thunderbird Invitational. ASU Junior, Chun An Yu, also took the individual title. It was the third-straight year the Sun Devils won the tournament – 20th overall – since it's inceptions in 1973 and 14th individual medal. Among notable past champions, Phil Mickelson won twice (1991 and 1992), Paul Casey once (2001), and Jon Rahm posted a three-peat (2014 – 2016). All three former Sun Devils recently competed in the 2019 Masters.
Of the four teams that recently played Raptor, UCLA went on to place 3rd, North Carolina came in 6th, Baylor earned 8th and BYU came in 12th place. Complete final standings can be found at GolfStat.