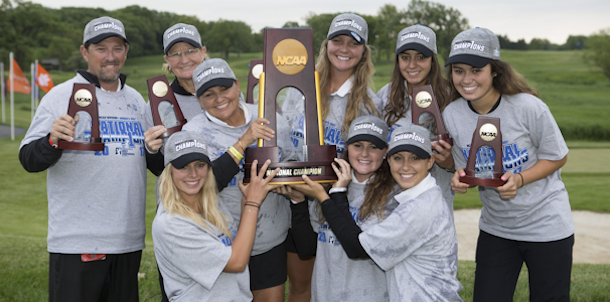 Grayhawk Golf Club to Host These Prestigious Events 2020 – 2022
Ladies First
On Friday, May 18, the 2018 NCAA Women's Golf Championship teed off with the No. 10 Arizona State Sun Devils sharpening their forks for back-to-back national championships. Unfortunately, they fell short of a record-breaking ninth national title, but since they set the record last year with their eighth, they still own the most team championships in NCAA Women's Golf history.
Tuesday and Wednesday's match play will be broadcast on the Golf Channel. The University of Arizona Wildcats Women's team made the cut of the final fifteen teams, and has advanced to the quarterfinals after a win over Baylor on Monday.
Men's Sun Devils and Wildcats Up Next
Also at Karsten Creek, the Men's competition kicks off May 25-30 with a field of college golf heavy weights led by the Sun Devils who grabbed the fifth spot at their regional.
Although the UA Men's team missed the championship by a lousy two strokes, Tucson's George Cunningham took home individual honors (i.e. top individual not on one of the advancing teams) at the regional, good enough for a birth into the big show.
Two More Years
Grayhawk Golf Club will become the new host site for the Division I NCAA Men's and Women's Golf Championships in 2020 through 2022.
"Grayhawk has a tradition of hosting competitive tournaments at the highest level," said Joe Shershenovich, director of golf at Grayhawk. "We look forward to hosting the NCAA Golf Championship."
The Raptor Course
The championship will be contested on Grayhawk Golf Club's Tom Fazio-designed Raptor course. Since debuting in 1995, Raptor has hosted several premier competitive golf tournaments such as the PGA TOUR's Frys.com Open (2007-2009).
Other events include the inaugural Williams World Challenge in 1999 (Hero World Challenge), and the Andersen Consulting World Championship of Golf (1995, 1997 & 1998), now known as the Dell Technologies Match Play.
Grayhawk also hosted Pro-Ams for the Waste Management Phoenix Open (1996 to 2012), The Tommy Bahama Challenge (2004 & 2005) and the Thunderbird International Junior, an AJGA event played from 2000 to present.