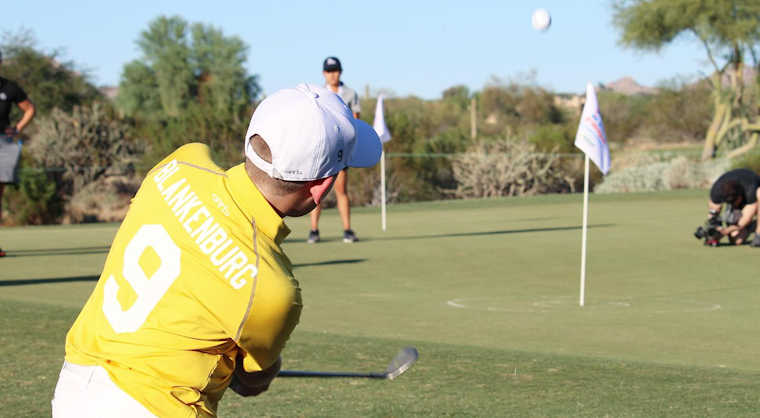 On the eve of the 2019 PGA Jr. League National Championship presented by National Car Rental, participants gathered to show their stuff at the Skills Competition. The 120-player field was divided into five groups across all 12 championship teams, mixing everyone together for a fun-filled competition.
"It's a great way for them to meet each other at the beginning of the tournament," said Joe "Shoe" Shershenovich, director of golf at Grayhawk Golf Club. "Activities like the skills competition and welcome reception are really meant to bring everybody together."
The players worked their way through the golf stations: short putt, long putt, chip, long drive and the ever-popular shot across the pond.
"The shot is from the 10th tee, over the lake to the 18th green," said Shoe. "It's about 75 yards, not a particularly difficult shot, but you're on stage with the pressure on. It's a crowd pleaser that we roll out for our big events."
The players also took on two new challenges inspired by PGA Jr. League Ambassadors NBA MVP Steph Curry and Olympic Gold Medalist and FIFA Women's World Cup Champion Alex Morgan. They were pop-a-shot for Curry and a soccer-style-darts challenge in Morgan's honor.
Tour De Force
Tour players Colt Knost and Chez Reavie were on hand as well as caddie extraordinaire and NBC Sport golf commentator Jim "Bones" Mckay took in the action.
Kelley James Jams
Freestyling singer/songwriter Kelley James returned this year to entertain the crowd. The guy can put more spin on popular tunes than a Phil Mickelson flop shot. Once again, his improvisation skills amazed the crowd.
Competition: Saturday – Monday
The three-day competition runs Saturday through Monday with morning tee times beginning at 7:45 am all three days and afternoon tee times at 12:50 on Saturday and Sunday. On Monday, the championship match begins at 1:50 pm and wraps up around 5 pm with the Awards Ceremony following play.
Spectators Welcome – Get Involved
The tournament is open to the public. It's a great way for kids to see other kids playing and competing. If they like what they see, they can join a local PGA Jr. League and get involved. Who knows, they may even make it to the championship at Grayhawk next year!
PGA Jr. League is the fastest growing junior golf program in the United States. With its low-pressure scramble format and inclusive teams where boys and girls compete together on the same teams, it's easy to see why.