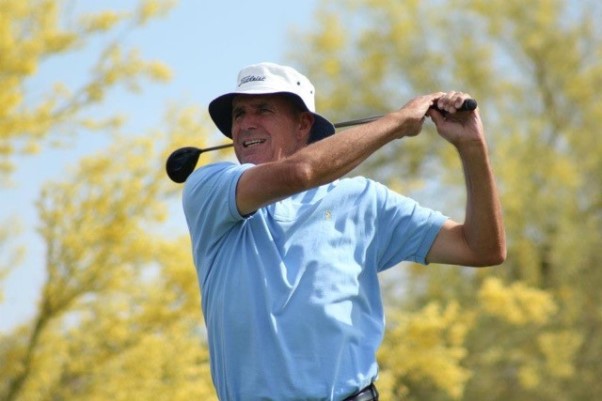 It's always great to see a pal of the club doing well. Murphy "Murph" Mitchell is the latest. He's a Black Tee cardholder who has been playing out of Grayhawk for a half-dozen years or so, and last month (Feb. 10) he was honored by the Arizona Golf Association as the – 2015 AZ Senior Division Player of the Year. He got there by virtue of a T2 performance at the 2015 AZ Senior Stroke Play Championship in early May along with a win at the 2015 Arizona Senior Match Play Championship on June 2. Then, in November, he placed T5 in the 2015 AGA Players Cup Championship.
In the Match Play tournament, he went 1 up, 3 and 2, 3 and 2, 1 up, and finally 5 and 4 in the championship match.
"Honestly, I was fortunate enough to play well at the right time," he said. "I think I played six rounds in four days in hot weather. My putter was hot too, which is strange for me. I didn't really drive the ball well, but good putting cures what ails you. It was also lucky for me that some top players were eliminated early in the tournament. That kind of thing happens in match play."
Murph picked up the game a little later in life than most scratch golfers. He was a football guy who played for the University of Tulsa until he traded in his football cleats for softball cleat. Murph played competitive softball for years before catching the golf bug in the mid-80s.
"Some days you have it and some days you don't," he said. "I'm very fortunate that my wife is a strong supporter. Callie doesn't play golf, but she really likes horses. We lease one here in North Scottsdale. Callie can spend hours riding and caring for the horse. She stays occupied with that, and I play golf."
Moving from Tulsa to Scottsdale
It all started about six years ago when Murphy and Callie moved to Scottsdale from Tulsa.
"We were retired, the kids had grown up and moved on, and we were looking for a place to live," said Murph. "We had rented a home while on vacation in
Scottsdale in the past and loved it, so that was a natural choice for us."
Scottsdale is a target-rich environment for golf, and after poking around the area sampling the golf experiences, Murph landed at Grayhawk where he has been a Black Tee cardholder for a handful of years.
"I like that the golf courses are distinctively different," said Murph. "Raptor is a little more open off the tee, but a bit harder to get up and down with the crowned greens and deep bunkers. Talon is more of a desert course. They both are very playable and always in good condition. Seems like we end up playing Talon more than Raptor, but I'm totally fine with either one. I couldn't say that I like one more than the other, but I do seem to score better on Talon."
We also discussed the combo tee option and the new holes on Raptor.
"I think the combo tees, especially on Raptor, are a good compromise," he said. "Some of those long par 4s can really be challenging from the back tees. It's handy to have a little help on those."
The New Holes on Raptor
Murph is also a big fan of the new holes on Raptor.
"No. 15 is an outstanding hole," he said. "It's a fun driving hole and the green is very interesting. The old no. 16 was just such a tough hole. The new one is a bit more manageable. And, I like what they did with no. 17, although I don't really try to reach the green from the tee. It was a much harder hole before when you'd have a 4-6 iron in. Plus, once the new holes have a little time to mature, they'll be even better."
For all the talk about his golf game, the golf courses, and the new holes on Raptor, Murph was quick to point out the real asset at Grayhawk – the people.
"Everybody is just so friendly and genuine," Murph said. "Every step along the way, from the bag drop to the beverage cart to dinner, they do a great job. And, we truly appreciate it.
"Callie and I usually dine in Phil's Grill. Sam, Scott, Kyle and the others are just so fun to be around. My go-to item was the pork chop until they 86ed it. Of course, the burgers, wraps and especially the fries are great, too.
"I think it's the nucleus of old-timers that makes the difference. Kelly in the Golf Shop, Joe Shoe, Brian and all the others seem more like friends to us. I think that really sets the tone for everybody else on staff."
Indeed it does, and the funny thing is, it's not the first time I've heard that.