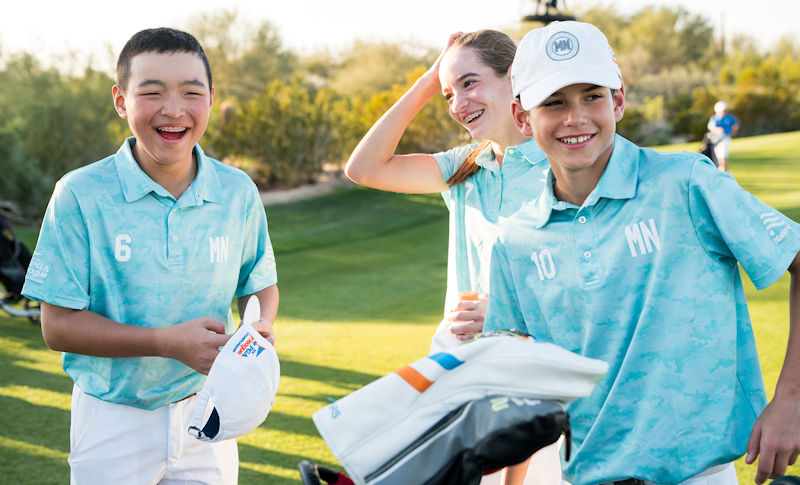 Local Grayhawk All-Stars set for another run at national championship hosted on their home course
The fastest-growing junior golf programs in America, 2019 PGA Jr. League recently teed off with regular season matches running through the summer. All-star teams are then assembled to compete in sectional qualifiers in August followed by regional qualifiers in September. The 12 regional winners advance to the PGA Jr. League Championship presented by National Car Rental – proudly held here – at Grayhawk Golf Club.
Not Their First Rodeo
Grayhawk Golf Club has hosted the championship since 2016, with the 2019 event scheduled for October 11-14, and during last year's tournament, the PGA of America announced an extended partnership through 2022.
"Grayhawk Golf Club, a PGA-staffed facility, is beautiful and we're thrilled to return here for the 2019 Championship," said PGA President Suzy Whaley, PGA/LPGA. "We look forward to Grayhawk hosting the PGA Jr. League Championship presented by National Car Rental in Scottsdale through 2022. Grayhawk has embraced the Championship, and the PGA Professional Team at Grayhawk continues to create an unforgettable experience for players, Captains, Coaches, families and fans alike that matches the incredible golf on display."
Team Grayhawk
Not only does Grayhawk host the championship, it also fields a league led by captain and Head Golf Professional, Travis McCutchan, PGA.
"I have been the captain of Grayhawk's PGA Jr. League for two years with 36 kids participating in regular season play in 2017 and 40 in 2018," he said. "I'm very proud to say that 25 percent of my players are girls, a key group in terms of growing the game."
On the national level, he also captains the Grayhawk All-Stars, which easily advanced through the sectional qualifiers for the past two years only to come up short by razor-thin margins in the regional qualifiers. As one might imagine, the disappointment of missing out on opportunities to play for the national championship – on their home course – was a major letdown.
"We all felt deflated by the losses," said McCutchan. "But I was really impressed by the way everyone accepted it with class. I'm sure we'll get another shot at it. Who knows, this could be our year. I do know that they are a very talented group of kids. I like their chances."
New Format For An Old Game
What makes the PGA Jr. League different? It's a coed team competition with boys and girls age 17 and under competing together in a popular low-pressure two-person scramble format that maximizes the fun and social nature of the game. Everybody gets to participate, at least, in local league play no matter their skill level by substituting teammates in and out of the games.
Advanced players push their limits by graduating to more competitive all-star teams with the opportunity to move from local to national levels. All players wear colorful numbered jerseys, and all benefit from the watchful and astute eyes of LPGA and PGA Professionals who serve coaches and captains.
Get Involved – Everybody Else Is!
In 2018, a record 50,000 boys and girls played on nearly 4,000 regular season teams nationwide, up from 42,000 kids on 3,400 teams in 2017. These numbers are expected to climb even more in 2019. Why? Just drop by Grayhawk this October to take in the PGA Jr. League Championship, and it will be easy to see the attraction. A far cry from the stuffy and reserved stereotype of the game, the place is buzzing with activity, laughter and high fives.
Visit www.pgajrleague.com to learn how you can get involved.