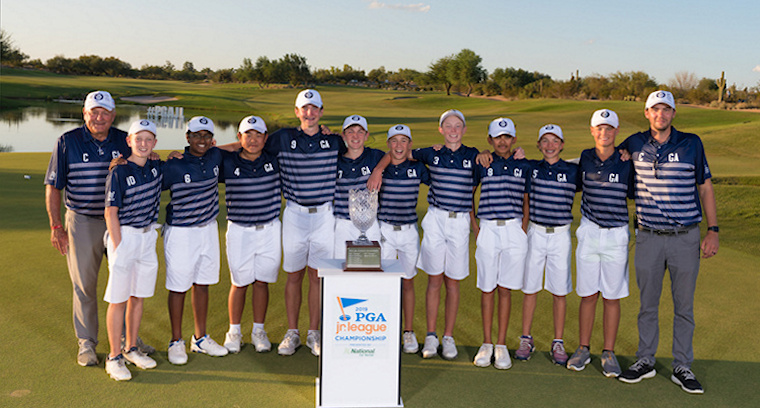 Watch Live on ESPN or drop by – Spectators Welcome
With their sights set on the 2021 National Car Rental PGA Jr. League Championship, 12 All-Star teams gather at Grayhawk's Raptor Course for a week of fun beginning with Thursday's Skills Challenge. Regular play runs Friday-Sunday, and for the first time, the championship will be broadcast live on ESPN.
Friday, October 8
8-10 a.m. MT – ESPN2
12:30-2:30 p.m. MT – ESPN+
Saturday, October 9
8:30-10:30 a.m. MT – ESPNEWS
12:30-2:30 p.m. MT – ESPN+
Sunday, October 10
1:30-3:30 p.m. MT – ESPN2
"For the players and their Captains, Coaches and families, the National Car Rental PGA Jr. League Championship will deliver an amazing experience that they will always treasure," said PGA of America President Jim Richerson. "Fun and teamwork are at the heart of PGA Jr. League, and these qualities will certainly be on display at Grayhawk Golf Club. That's why the PGA of America and our PGA Professionals are extremely proud to present this very special Championship live for the first time ever on the ESPN family of networks."
Championship Field
Team California – Encinitas, Ranch Golf Course
Team Connecticut – Torrington, Country Club
Team Florida – Orlando, Marriott Golf Academy
Team Illinois – Lemont, Cog Hill Golf & Country Club
Team Minnesota – Blaine, TPC Twin Cities
Team New Jersey – Bedminster, Fiddler's Elbow Country Club
Team North Carolina – Charlotte, Waterford Golf Club
Team Oklahoma – Broken Arrow, Battle Creek Golf Club
Team Pennsylvania – West Mifflin, Westwood Golf Club
Team Tennessee – Clear Creek, Blackthorn Club, Pine Oaks, Cattails and MeadowView
Team Texas – Dallas, Brookhaven Country Club
Team Utah – Lehi, Thanksgiving Point Golf Club
The Competition
Friday begins with an 18-hole team aggregate stroke play scramble competition, counting the top three of four pair scores per nine holes. On Saturday, Oct. 9, the same format and scoring continues, and the 18-hole totals from both days will be combined for a 36-hole aggregate team total.
The final four teams are seeded based on their Friday and Saturday performance and will compete in head-to-head match play in the semifinals on Sunday, Oct. 10. The two winners will then face each other in the championship match that afternoon, while the other two teams will compete for third place.
Thank You National Car Rental!
National Car Rental was named the inaugural title partner of the Championship Season in February. PGA Jr. League's biggest corporate partner since 2018, as well as an Official Partner and the Official Rental Car of the PGA of America since 2012, National's new title partnership aims to continue fueling meaningful growth of PGA Jr. League and supporting the program's endeavors to welcome more kids to the game.
About PGA Jr. League
PGA Jr. League is the flagship youth pillar program of the PGA of America's 501(c)(3) foundation, PGA Foundation, PGA REACH, with a goal of making the program accessible to all interested kids in the United States and around the world. Visit PGAJrLeague.com for more information, and follow @PGAJrLeague on Facebook, Twitter, Instagram and YouTube.