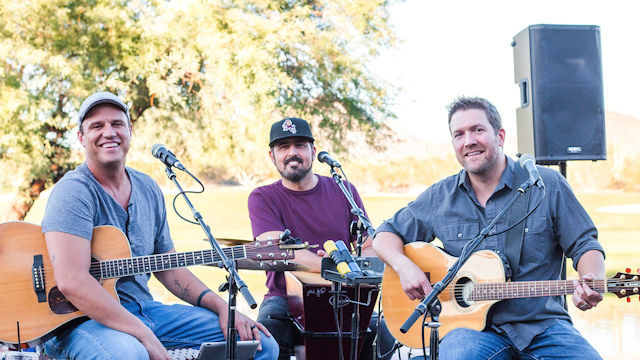 Wednesday evening live music, food and drink specials with golf course and mountain views
Live at Grayhawk – featuring live acoustic performances by Jay Allan and Matt Henderson along with drink and appetizer specials – returns to the patio at Grayhawk Golf Club's Quill Creek Café Wednesday evenings September 25 through November 27, 5-8:30 pm. The performances run through the fall, adjourn during winter months when it's "cold" in Scottsdale. Then we kick it back up in the early spring. We'll update you on the spring schedule when we nail down those dates.
"We are looking forward to another season of Live at Grayhawk," said Brian Bevard, director of operations for Grayhawk Golf Club. "We remodeled the patio before last year's performances with new outdoor-living-type furniture and a completely renovated fireplace. It turned out even better than expected. It's really a unique venue for live music. Jay and Matt kill it out there. It's just a lot of fun."
Live Music, Food and Atmosphere
Allan and Henderson perform a blend of classic cover tunes with a funky-folk, blues-rock twist. As appealing as the live music and drink and appetizer specials may be, the unique atmosphere truly set's Live at Grayhawk apart with new comfortable patio seating overlooking the golf course, greenside lake, roaring fireplace and afternoon sunshine lighting up the McDowell Mountains in the background.
This unique venue fills up fast. Seating is first-come first-served. It's highly recommended to arrive early for the best options.
Click for Menu