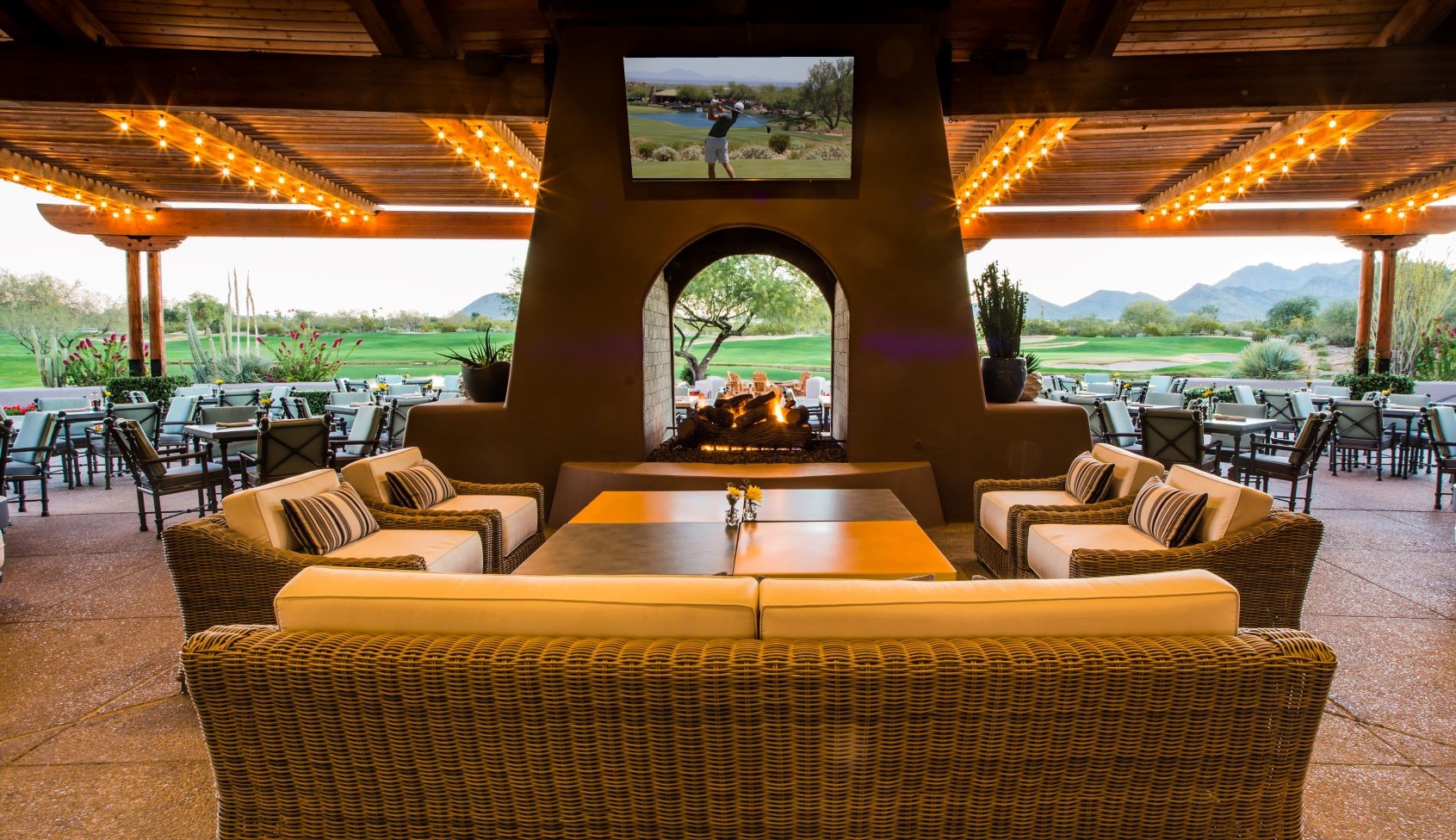 Quill Creek Café, Phil's Grill, The Morning Joint and Isabella's Kitchen
The dramatic change of seasons in the Valley of the Sun brings renewed interest in al fresco dining. The restaurants at North Scottsdale's Grayhawk Golf Club offer four unique outdoor, patio dining experiences highlighted by sweeping golf course and mountain views set in the middle of the distinctive Sonoran Desert.
"We look forward to this time of year," said Brian Bevard, director of operations for Grayhawk Golf Club. "All of our restaurants maximize indoor-outdoor dining seating options with all of the great Scottsdale weather, the views, the sunsets. People love it here. And we're open to everyone. It's fairly common for them to say 'we thought you were private.' We're completely public, always have been."
"My concept for the patios at Grayhawk was a very simple. Provide a combination of fully covered, shaded and open areas all looking at the near view of the golf course and the far view of the mountains," said Douglas Fredrikson, founder and president of Douglas Fredrikson Architects, the firm that designed Grayhawk's clubhouse as well as Isabella's Kitchen. "We wanted to make it feel intimate, small spaces, yet flexible, to hold after-tournament gatherings or holiday events."
Quill Creek Cafe
The Quill Creek Café, located in the clubhouse, opens to a spacious patio overlooking the Raptor golf course, lake and McDowell Mountains lit up with purple hues at sunset. It offers traditional outdoor tables as well as casual high-top and lakeside lounge areas. It's open daily for lunch and dinner, and hosts "Live at Grayhawk" (weather permitting) Wednesday evenings 5-8:30 pm featuring live music, food and drink specials.
Phil's Grill
Phil's Grill, Grayhawk's 19th hole named after the club's PGA TOUR ambassador, Phil Mickelson, offers similar views as the nearby Quill Creek Café, along with outdoor patio table seating, campfire-style lounge area and comfortable alcove.
The Morning Joint
Open for breakfast and lunch, The Morning Joint, a.k.a. Mojo, coffee shop offers a shady, pet-friendly patio to enjoy morning coffee, breakfast, fresh juices and smoothies. Located in the front of the clubhouse with designated pick-up parking, Mojo is a great choice to grab a quick cup of coffee, or stay awhile and relax on the patio.
Isabella's Kitchen
Across Thompson Peak Parkway from the clubhouse, Grayhawk Golf Club's Isabella's Kitchen overlooks the Talon course, McDowell Mountains as well as the city lights in the Valley below. Large garage-style doors roll up to bring the outdoors into the main dining room while windows surrounding the bar do the same. The patio wraps around the building to provide ample fully covered and partially covered space to encourage guests to relax and enjoy time with family and friends.