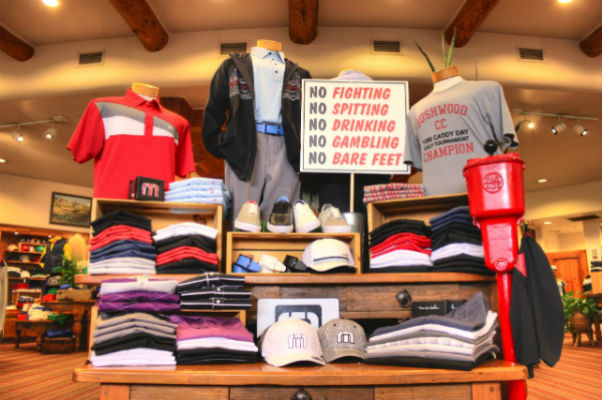 Joe "Shoe" Shershenovich, PGA, Director of Golf at Grayhawk Golf Club, was recently named the Southwest PGA Merchandiser of the Year Award for Public Facilities.
"I truly appreciate the recognition," said Shoe. "And the accolades certainly extend to our retail director, Kelly Azama. We've managed to carve out a strong business within the business that our guests from across the country enjoy. This award validates our hard work."
"Shoe and I are very lucky to have such a large and beautiful space to work with; not a bad office, I must admit," said Azama. "We do our best to maximize the opportunities we have and to work with everyone on staff to put the best and hottest gear on the sales floor. From there it's all about customer service."
The goal at Grayhawk was to take golf retail to the next level. The Grayhawk Golf & Trading Company was created for the championship facility offering not only golf items, but an array of lifestyle and non-traditional golf merchandise to keep customers attention. The shop is over 3,000 square feet and is fully stocked with fresh styles and merchandise.
Top Brands and Eye-Catching Displays
Shershenovich was honored as the PGA of America Merchandiser of the Year for Public Facilities in 1997, the Southwest PGA Merchandiser of the Year for Public Facilities (1993), Resort Facilities (1996), the Southwest PGA Bill Strausbaugh Award (1994, 2005) and the Southwest PGA Golf Professional of the Year in 2003.
Shershenovich earned his membership in the PGA of America in 1988 and worked his way up to PGA Director of Golf at Camelback Golf Club, where he remained for six years before accepting the same position at the newly opened Grayhawk Golf Club in 1994. Time flies!
The Southwest PGA also recognized several other members from Golf Professional of the Year to The Patriot Award.
Read more about all the PGA Southwest Award Winners for the 2018 Class.